December 1, 2004
The Woman of Whiskey Row
Rate this encounter:
Philip Green, Prescott, Arizona, September 8, 2004, 10:00 PM, info@ghostvillage.com
Click on picture for larger view.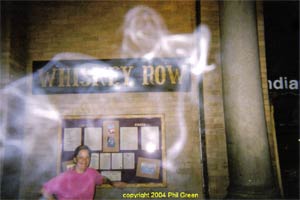 On vacation in Prescott, Arizona, I took a picture at night of my wife. We were standing on Whiskey Row. I bought the disposable camera in Ohio, took the picture in Arizona, and had the film developed in Florida. All of the other pictures on the roll were fine. It resembles, rather clearly, a woman in a rocking chair turning to look at the camera. I am looking for any history on this woman to see who see is and why she wanted her picture taken.