August 13, 2004
River Styx Cemetery Face
Rate this encounter:
Julie Keller and Dave Mackie, River Styx Cemetery, Wadsworth, Ohio, June 2004, info@ghostvillage.com
Click on pictures for larger view.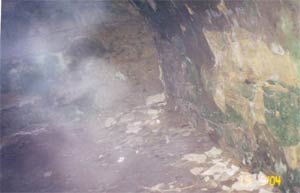 This picture comes from a cemetery known for being haunted, it is River Styx Cemetery in Wadsworth, Ohio. We still have quite a bit of checking to do on the history of the cemetery. This picture was taken late in the afternoon around 4 p.m. using a 35 mm. camera with 400 speed film. This picture was shot just on the inside of a small cavern located under a hillside within the cemetery. There is a family plot atop of this cavern. We had pretty much shot the 24 exposures focusing around this cavern with 10-second intervals. Going back over the pictures, this one took us by surprise -- it looks to us like a large face. We have also caught orbs and mist at this location, but nothing as grand as this. The face was in only on one picture and all the others just showed an empty cavern.