October 26, 2004
The Mist of Gunntown Cemetery
Rate this encounter:
Cathy Johnson, Gunntown Cemetery, Naugatuck, Connecticut, January 15, 2004, info@ghostvillage.com
Click on picture for larger view.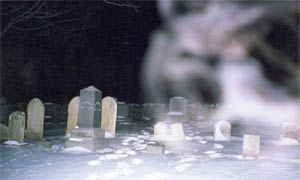 My son and his friends like going to Gunntown Here in Naugatuck, Connecticut. I sit in the car and take pictures. I have gotten more then I asked for. There are different times that we have gone and one cemetery stone will be lit up then the next time another one, and once two were lit up. Gunntown Cemetery is noted for being very haunted. There are so many stories there, from children laughing to a ghost horse riding through, black dogs running around, and so on.