November 22, 2004
Family's Mysterious Mist
Rate this encounter:
Darlene Miller, Glenville, West Virginia, April 4, 2002, info@ghostvillage.com
Click on picture for larger view.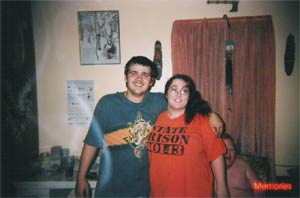 This picture was taken in my home in Glenville, West Virginia on April 4, 2002. It was taken with a 35MM Keystone Camera. The girl is my daughter along with her half-brother, Johnny Lee. Johnny had came over to visit us and we were all fooling around taking pictures. They thought they would act up and have me take a picture of them together. There were many pictures taken that night but this is the only one that has something in it.

It wasn't until about three months ago that the fog in this picture was noticed. No one had been smoking for a while when this was taken. I'm interested in the paranormal but this is the first time one of my pictures has came out with anything like this. I would like to hear what others think about it.