Added August 4, 2003
Winnipeg's Haunted Fort Garry
Rate this encounter:
Meta Motiejunas, Winnipeg, Manitoba, Canada, July 2, 2003,
info@ghostvillage.com
Click on pictures for larger view.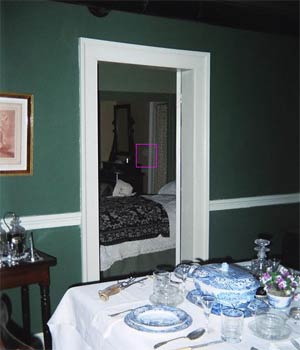 This picture was taken at Fort Garry near Winnipeg. It was a family reunion trip and I was looking forward to going to the Fort because I had read about some of the ghost stories online. We arrived with my video camera almost fully charged and fresh film in my camera. After four minutes of taping on the video camera, the battery died and each time I would take two pictures with my camera it would rewind itself. An instant camera gave us a hard time but eventually gave us these shots. These are what we did get and just our opinions on what we may have captured.

In the top picture you'll see a green orb floating over the bed. If you enlarge the bottom picture you'll see the reflection of a man in the top-left of the picture on the wall.