Witness: Susan Fair
Location: Locust Grove, Virginia
Date of Encounter: October 11, 2008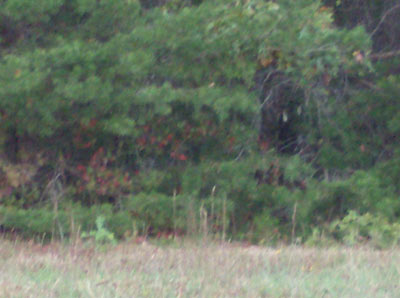 On Saturday, October 11, 2008, I was fortunate enough to visit the Wilderness Battlefield in Virginia.
In May of 1864, thousands of men were killed in the Battle of the Wilderness — one of the most horrific battles of the Civil War. The main "battlefield" area consists of a small open exhibit pavilion, a large open field, and the woods themselves, through which you can walk on a long trail. As I was walking in the field toward the trail in the woods, a certain area along the edge of the woods across the field kept getting my attention. In ghost hunting I have been trained to snap a photo when I "feel" something unusual, so I zoomed in and took a picture of this one area along the woods that I kept feeling drawn to.
It was early evening, and the whole battlefield had a very creepy feeling. I seldom feel this when visiting battlefields (I am not "sensitive). When I reviewed my pictures a few days later, I discovered what appears to be a figure in the photo. There was no one else at the battlefield when this picture was taken except for me and my friend. Several people have looked at this picture and see a hooded figure; some see a union soldier, some see two figures, some see strange shadows, and a few see nothing at all. But almost everyone who has looked at it does agree that there seems to be something strange about this photo.