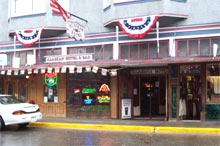 "We followed the gulch down from the summit of the mountain into the basin… it was a beautiful sight to see the large pieces of quartz spangled over with gold," Richard Harris said on October 3, 1880. On that fateful day, Joe Juneau and Richard Harris, along with their Tlingit Indian guide, found gold in Silver Bow Basin in a stream they called Gold Creek. This event was the start of a nationwide gold rush to this largely untapped section of the world. Over the years, many people came to the wilds of Alaska searching for this precious metal. Having been there myself, I can tell you there's ghosts in those hills and towns, too.
Last week, I traveled up the Alaskan coast and stopped at the towns of Ketchikan, Juneau, Sitka, Seward, and Anchorage. The history of these Alaskan towns is colorful to say the least — the gold miners were not the first residents of the area, of course. That distinction goes to the Tlingit Indians, who lived in what is now Southeastern Alaska for several thousand years. The Native American influence can be seen all over these towns, from totem poles and other native woodcarvings in the parks, to Tlingit artwork on the sides of buildings.
During the gold rush of the late 1800s and early 1900s, these Alaskan towns got their start as simple tent villages where miners slept when they weren't digging or panning for gold. Eventually, buildings were erected, saloons opened, hotels and general stores began to take shape, and these campsites turned into towns.
I came to Alaska to see nature in all of its power and glory, but I also came looking for ghosts. For help on my quest, I spoke with Ron Wendt, author of Haunted Alaska — a collection of ghost stories from America's last frontier. With Wendt's help, I found a very "lively" haunting in the state capital of Juneau — a city of approximately 31,000 people. No roads or rails run into Juneau; the only way in is by boat or plane.
Juneau formed as a by-product of the gold rush and grew quickly. The town was originally called "Harrisburgh," but as the locals tell you, Richard Harris was not a very popular character. No one knows for sure who Joe Juneau lobbied to get the town's name changed in his own honor, but one story says he bought a round of drinks for a large group of town residents and that was enough for them to change the name. In the heart of downtown Juneau, on a quaint street called South Franklin, sits the Alaskan Hotel.
The Alaskan Hotel was built in 1913 by the McCloskey brothers and Jules B. Caro, and it now sits on the National Registry of Historic Places. It is Juneau's oldest continuously operating hotel. Originally a hotel and bordello, the establishment was set up for miners who were in town for work.
Back during the gold rush when the men significantly outnumbered the women, houses of prostitution were a popular place to be when the men weren't working. According to Wendt's research, the ghost that haunts the hotel is that of a woman who was driven to become a prostitute when her husband had gone into the hills to mine for three weeks and didn't return. She ran out of money and thought that maybe her husband wasn't coming back at all, so she became a lady of the night. Three weeks later, her husband did return and was so angry when he found out what she was doing that he killed her in the hotel.
I found more than one legend about how the haunting started after speaking with several people who worked at the hotel, some patrons at the bar, and even a former manager. I can tell you that though not everyone agrees on which part of the hotel has the most activity, or how the haunting got started, they do all agree it is haunted. I didn't speak with a single local who didn't know of the Alaskan Hotel's ghost stories.
Jake Good, who was working at the front desk of the hotel when I visited, said, "People have told me they've seen things before, like seeing people in the hallways that look like people in paintings around here. I've never experienced any of that kind of stuff, but I've heard about it. The only reason that I personally believe that it's haunted around here is because parts of the hotel just don't feel right. Some parts of the hotel I just don't feel safe at — I'm constantly turning around."
Good went on to tell me about room 219 in the hotel. He said, "Whenever I walk up into room 219, I get goose bumps. It's cold in there all of the time for some reason. I personally think there are probably a couple of ghosts around here. I think the one in 219 is the only one that is frustrated or unhappy or tormented, I don't know."
Good has only been working at the Alaskan Hotel for the past few months, and he told me how guests continually ask to be moved out of room 219. The patrons don't usually give much of a reason, and Good says he doesn't ask too many questions — he simply tries to accommodate them.
On a tip from one of the Alaskan Hotel bar patrons, I went across the street and found Scott Fry playing guitar in an acoustic duo — I walked in during the chorus of the old folk/blues tune "Stagger Lee." Fry was the manager of the Alaskan Hotel for 12 years, and I had a chance to speak with him during his break. Fry said, "Her name is Alice if I remember correctly, and she supposedly was a lady of the night. She got killed, and I was told originally it was somewhere in the back of the building. She lost her life to a jealous lover."
Fry also spoke of specific rooms with ghostly activity. He said, "Room 218. I used to get people saying, 'She's in my room.' I've had people tell me that she was touching them, or they could see her sitting on the bed. A friend of mine told me if you walk up the top of the stairs, you could see her in the mirror by [room] 308. I've also had people tell me she was in the bar coming down the stairs. The bar has a lot of mirrors in it, and it's easy to see things out of the corner of your eye, especially if you're tired."
Fry said he has heard of activity in almost all of the rooms on the south side of the hotel. He himself never had any supernatural experiences in the Alaskan Hotel, but he has certainly heard many first-hand accounts from people who did.
Ron Wendt relayed a story he had heard from Elva Bontrager, who stayed in the Alaskan Hotel several years ago. Wendt said, "It wasn't long after that she started working in Juneau that she started going to the Alaskan Hotel. She went into the bathroom there — it was an old-style bathroom — and then she came back out. The next time she went in, it was brand-new and she says, 'What happened to the old bathroom?' Everything had changed. It's a pretty tremendous thing when the whole room changes while you're there. She said others had also experienced that."
The people who live on the state's Southeastern coast, in towns where everyone knows everyone else, have some intriguing stories and folklore to share. I may not have found any precious metals in the streams and hills of Alaska, but I found gold in the ghost stories of the great people I had the chance to speak with.