Witness: Richard Lovelace
Location: Hartsville, South Carolina
Date of Encounter: January 7, 2009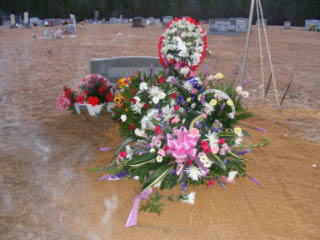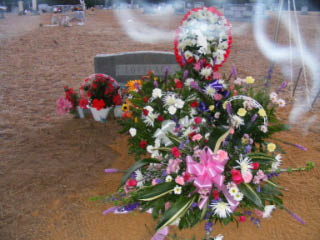 My mother's health declined fairly rapidly the last couple of years of her life. During this time, we had many conversations about life after death. She was a southern Baptist and believed in Heaven and Hell. I, of course, agreed with her. Around this time, I became a paranormal investigator. My mother was always pretty skeptical of my hobby, but she supported me. I asked her, if she would give me a message when she passed away. Being a loving mother, she agreed to contact me if she could.
Mother passed on January 5th, of this year. Her funeral was on January 7th. My wife and I returned to the church cemetery about two hours later. I wanted to take pictures of the flowers before they wilted. I took about 12 photos of the flowers on her grave. All were perfectly normal, except the first two. The first shows a little mist on the ground beside her grave (where my dad is buried). I didn't notice it then, but someone on another site said there was a figure visible. The second photo had looping mist trails over her grave. I was very surprised to see these photos. I then thought of the talks that Mom and I used to have. I think that this was her way of telling me, that there is life after death.