Witness: Andy
Location: Hooe, England
Date of Encounter: September 20 2003, 10:30 PM
Click on pictures for larger view.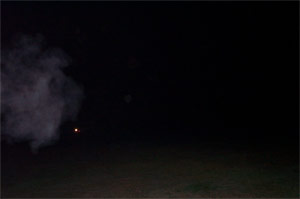 I'm an astronomer who was out observing Mars with some friends on 20th September 2003 at 10:30 PM. I don't know why I took this picture but this is what I found on it the next day. As you can see the object is in the foreground, and the picture is taken in a park with no vehicles allowed. In the distance is a car light as a road runs adjacent to it some 600-700 meters away.
The picture was taken with a Kodak digital camera dc280. The conditions were warm for the time of year, clear skies. I was in Hooe a little village between Eastbourne and Hastings in England. I have gone through all the usual explanations: exhaust, mist, fog, etc., none really tally up. Any comments?