Witness: Matt Pace
Location: Jerseyville, Illinois
Date of Encounter: March 2008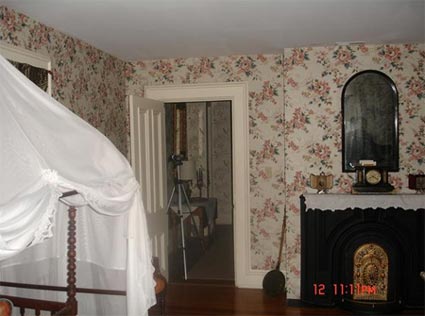 This is a picture a picture taken from one of our Riverbend Paranormal investigators at the Cheney Mansion in Jerseyville, Illinois. If you look at the mirror you will notice a figure in there. The form appears to be male, has a beard, and dark hair. He also seems to be wearing a gray and black-striped shirt. We tried to duplicate the picture and were unable to. Also at the time this photo was taken all three investigators in the room were wearing red hoodies. To really see the figure well you will have to blow up the picture some. The shirt on the photo appears to be striped, but upon inspecting the mirror we noticed it had several streaks in it which cause the shirt to look that way. After revealing this to the owner, she showed us a picture of an older man that is rumored to haunt that very same room. In the photo the man was wearing a gray and black flannel shirt.