About Ghost Chronicles | View the Archives | Join the Discussion

Length: 50 minutes
File Size: 57.1 MB (MP3 File)
Show description: With Halloween approaching, we decide to air an interview with the driving force behind Salem's Festival of the Dead, the late Salem Witch, Shawn Poirier. Shawn with his partner, Christian Day have done so much to rejuvenate witchcraft and its celebration in Salem. In memoriam to Shawn, Ghost Chronicles is proud to air this episode. Ron, Maureen, Jan, and Shawn discuss such topics as The Festival of the Dead, the difference between witchcraft and Wicca, and Shawn's philosophy of witchcraft in Salem. Are there dark entities and what is our fascination with the macabre? Tune in and find out more.
For more information on the Festival of the Dead go to: www.festivalofthedead.com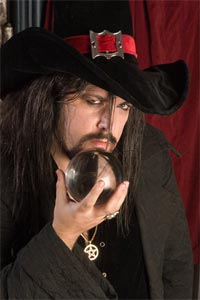 Salem Witch, Shawn Poirier.
To listen to this episode of Ghost Chronicles in your Web browser, just click on the microphone. To download the episode, right-click on the microphone icon and select "Save target as…"