About Ghost Chronicles | View the Archives | Join the Discussion

Length: 46 minutes
File Size: 42.3 MB (MP3 File)
Show description: Matt Pellowski of Red Line Studios joins Ron to discuss his upcoming documentary, The Eyes of the Mothman. Matt and his crew traveled to Point Pleasant, West Virginia to discover the truth about the Mothman. What was the Mothman and what was its effect on the community. Separate fact from fiction in this revealing interview. Also in the show: Matt discusses the newly released DVD Jane Doherty Investigates: Ghost Lake. What went on during the filming of these two films? Tune in and find out.
For more information on the Eye's of the Mothman go to: www.eyesofthemothman.com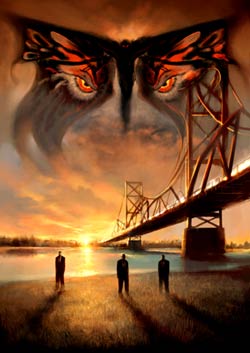 To listen to this episode of Ghost Chronicles in your Web browser, just click on the microphone. To download the episode, right-click on the microphone icon and select "Save target as…"