About Ghost Chronicles | View the Archives | Join the Discussion

Length: 53 minutes
File Size: 49.6 MB (MP3 File)
Show description: Before the movie American Haunting, there was The Bell Witch Haunting. The greatest ghost story ever told. Listen as Ron and Maureen interview Ric White, the producer of the movie The Bell Witch Haunting. Discover the legend and hear about the strange events that occurred during and after the production of the movie. Also in the show, Ron and Maureen investigate the legend of Witch Bonney of Lowell, Massachusetts. What do they discover? Tune in and find out.
For more information on The Bell Witch Haunting go to: www.bellwitchhaunting.com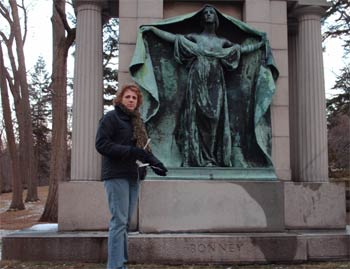 Maureen Wood with Bonney.
To listen to this episode of Ghost Chronicles in your Web browser, just click on the microphone. To download the episode, right-click on the microphone icon and select "Save target as…"