About Ghost Chronicles | View the Archives | Join the Discussion

Length: 43 minutes
File Size: 49.3 MB (MP3 File)
Show description: Journalist and author, Dan Gordon joins Maureen and Ron as they discuss Dan's Book, Cape Encounters – Contemporary Cape Cod Ghost Stories. Also included in the show, Dan's new book Haunted Baseball and a Haunted Encounter from Jeff Belanger and Ghostvillage.com. Dan and Maureen retell their experiences with red substance oozing from a house wall. What was it? Tune in and find out!
For more information on Cape Encounters go to: www.cocklecovepress.com
For more information on Haunted Baseball go to: www.hauntedbaseball.com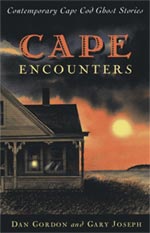 Cape Encounters
To listen to this episode of Ghost Chronicles in your Web browser, just click on the microphone. To download the episode, right-click on the microphone icon and select "Save target as…"