Witness: Tuesday
Location: Long Beach, California
Date of Encounter: July 2, 2006
Click on pictures for larger view in a pop-up window.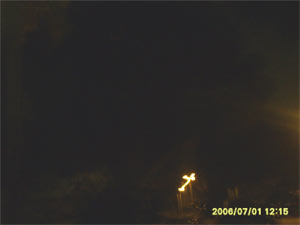 The night I had taken this photo, my house seemed to be more active than usual. I had noticed after being out most of the day that upon returning I was greeted by many ghosts. This seemed to last all evening. I had finally given in to them by going into the kitchen sitting down, and asking them, "What is it they wanted?" I was approached by this woman ghost who just kept pointing outside, so I got up and went outside. I took a couple of pictures, when out of the corner of my eye an animal hissed at me. It then went up into the tree growled at me, then lunged at me, I took a picture of it. Finally after it knew I wasn't going to hurt it, I had a closer look at what I discovered was a raccoon. It had startled me. We don't have raccoons in this area, nor I have ever seen one here before. I did sit back down to review the pictures I had taken, and instead of the raccoon being in the picture, this cross was in it. Amazing how spirit can work when they need to point something out to us.