Witness: Spirit on the Land
Location: Pensacola, Florida
Date of Encounter: October 2005
Click on picture for larger view in a pop-up window.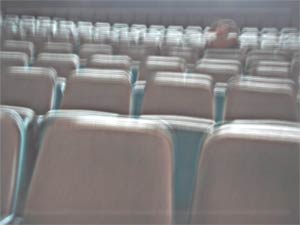 When I was taking the pictures I was sitting in the third row from the center of the main stage at the University of West Florida. My partner was in a performance rehearsal and I was taking pictures. The theatre is believed to have a ghost, though no one knows exactly who it could be considering the building isn't very old.
On this particular day, I was just shooting pictures behind me without looking. Every time I snapped a picture I looked in the small screen to see if I captured anything. After snapping this picture behind me, I turned to look, but no one was there. Even my partner asked what I was trying to take pictures of. When I saw this on full screen I could only see what I would describe as the spirit of a pirate. Considering we weren't more than a few miles from the Ocean, perhaps a pirate was visiting the rehearsal.