Witness: K.O.
Location: New York, New York
Date of Encounter: June 2005
Click on picture for larger view in pop-up windows.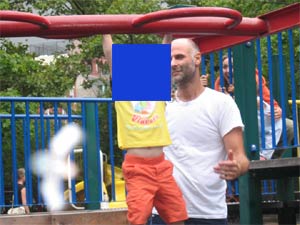 [NOTE: Child's face blocked out by Ghostvillage.com]
We live in downtown New York City. I took this picture of my daughter and her dad playing on the jungle gym in Tomkins Square Park in early spring. I was using a Canon Digital Elph, the flash mode was not activated. I didn't "see" anything as I was taking the picture. No other picture I've ever taken with this camera has had an anomaly like this. What I think is so interesting is that when you "zoom" in on the shape you can see that it has curves and depth — and you can also see clearly that no one is behind it or anywhere near it. It's just floating in the air near my daughter. I would welcome comments on this from experts.