Even if you're not a big fan of the Halloween season, you can't have lived in the Chicago area without hearing of "Resurrection Mary." Although the stories about Mary differ slightly, the general legend revolves around a young man who meets a young, blonde Polish girl in a dance hall in the 1930s. He spends the night dancing with her and even though she seems very quiet, there is something very intriguing and mysterious about her. The young man offers the girl a ride home and while they are driving down Archer Avenue in Justice, Illinois, the girl very hurriedly asks to be dropped off near the entrance of Resurrection Cemetery. She promptly exits the vehicle and proceeds through the locked gates and disappears!
Depending upon which source you refer to, the stories of Resurrection Mary started in either 1936 or 1939. Ever since that time people have tried to speculate on who "Mary" was during her short time on Earth. Being a big fan of the unexplained, I have heard of several candidates and have recently done my own investigation that turned up a few new tidbits about "Mary."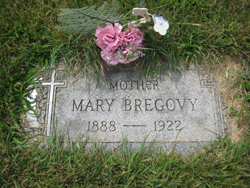 One of the main contenders for the title of Resurrection Mary was a 21 year old Slovakian girl named Mary Bregovy. Mary was killed on March 10, 1934, when a car she was riding in crashed into an "L" substructure near Lake St. and Wacker Drive. Many stories about Mary state that she is buried in an unmarked grave near her mother of the same name. Unfortunately, after doing some detective work myself, using census records, obituaries, death certificates, and newspaper articles, I discovered that Mary Bregovy was not the daughter of Kanty and Mary Bregovy, but was actually the daughter of Stefan (Steve) and Johanna Bregovy who lived at 4611 South Damen in Chicago. Mary had two younger brothers, Steve and Joseph. Both of her parents are buried at Resurrection Cemetery as well as Mary herself (although you won't find a listing of her in the cemetery's public information kiosk no doubt to discourage the disrespectful). Her death certificate states that she was born on April 7, 1912, and in fact is buried at Resurrection Cemetery but there exists no grave marker.
Could she be buried alongside or in the same grave as Mary Bregovy (more than likely her aunt, rather than her mother) or is she buried in the unmarked grave next to her mother Johanna? I decided not to press the issue out of respect for her family since tragedy also befell them when Mary's father Stefan committed suicide by hanging himself in the family's garage on Damen Avenue on September 21, 1951.
Mary Bregovy is not the only candidate for the title of Resurrection Mary. Some others include Anna Marija Norkus (1914 -1927) , Mary Miskowski (?-Oct. 1930?) and a candidate that I had never heard of before but I found while doing my own research, Mary Petkiewicz (1915 – December 25, 1932). Mary Petkiewicz was a 17 year old bride who was killed on Christmas night in 1932 in another ill-fated auto ride.
Is there a real-life counterpart to Resurrection Mary or is it another variation of the "vanishing hitchhiker" urban legend? Could it be that all of the Marys mentioned have been Resurrection Mary at one time or another? We may never know for sure, but the next time you are driving alone along that lonely stretch of Archer Avenue on a cold, dark Chicago night, you might want to think twice before picking up that innocent looking blonde hitchhiker. Oh, and if you do, please tell Mary that I said, "witaj!"