Witness: Dawn White
Location: Salem, Massachusetts
Date of Encounter: October 2004
Click on picture for larger view.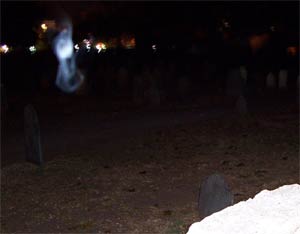 My mother and I have a tradition where we go to Salem, Massachusetts, every year just before Halloween. We usually just walk around, shop, and eventually have a reading done. This time I brought along my slightly new Kodak Easy Share 3.1 mega pixel digital camera so I could take some pictures.
This year we decided to take a "Walking" candlelit Ghost tour and as we were waiting for the tour to start I took out my camera and strolled through what's known as The Old Burial Point. This is the alleged burial location of some of the "accused" witches from the Salem Witch Trials.
I took a few pictures and noticed I had captured what I at first thought was an orb. I showed mom the picture, said "Thank you," to the orb, and we went along on the tour. When I got home later that night and transferred the contents of my camera to my laptop, I was elated to discover this wonderful image of a woman in white. I have a feeling that maybe she was accused of witchcraft and is buried in that location. I also took several pictures while on the tour but nothing appeared in those. I believe that "She" allowed me to see her because of my belief in spirits and such. This picture is saved on my camera's memory card for future reference and if I never snap a picture of that nature ever again, I'm content knowing that I at least have this one.