Witness: David Jones
Location: Scarborough Beach, Western Australia
Date of Encounter: November 2004
Click on picture for larger view in pop-up windows.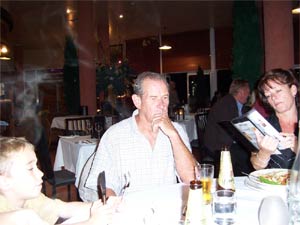 We had just recently emigrated from England to Australia and decided to embark on an evening out with some family. It was suggested that Italian would be the order of the night , and after a moment's discussion, we had decided on a nice restaurant at Scarborough Beach (about 15 minutes from Perth city center).
With us being the new kids on the block, I went armed with digital camera to capture those special moments when a family unites. After numerous clicks, I opened up the picture review to start deleting the nothing pictures and was left with the coldest of shivers running down my spine. The picture presently on screen had a ghostly mist on it in which the face of the devil amongst other apparitions, could clearly be seen.
The most common question asked about this picture is: Could it be cigarette smoke? To which the answer is, no. The restaurant has a strict no smoking rule, and even if it was, you don't get the face of the devil appearing every time you have a drag on a Marlboro Light, do you?