Witness: Pamela Smith
Location: Sylacauga, Alabama
Date of Encounter: March 6, 2006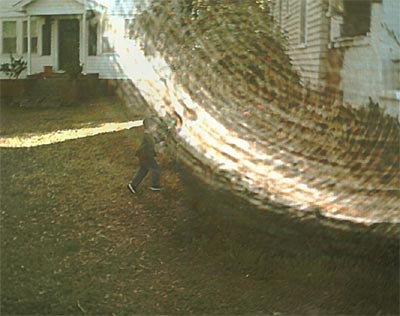 My husband and I have restored a 103-year-old Victorian home. From day one we have had experiences here. It began with footsteps going up the stairs. This happens frequently. It sounds like a man's work boots, and it only goes up, never down. Several of our guests have reported this to us before we told them of our visitor.
Last spring as we were doing renovations and adding a sun room, I walked in to see a man turn quickly and walk into the dining room. I thought it was my husband at first, and followed, but he wasn't there. Then my husband came through the front door. This really spooked me for a while. We also have a doorbell that we don't have. We pulled all the old wiring from this house when we began work and had all new electrical run. The doorbell we installed goes ding ding. But around every holiday it rings through the house and it's a ding, ding, dong, dong, pause, dong, dong, ding, ding.
Now, our daughter, Casey was killed in an auto accident March 1, 2006. Since her death she's had three birthdays, August 9th. On each of these days the chime has not only rang but has done it twice each time.
The picture was taken on March 6, 2006, the day after Casey's funeral. My oldest daughter and her family were leaving to go back to Virginia. My husband grabbed the camera to take some pictures of the grandkids before they left. (They were being shipped to Italy and we wouldn't see them for three years.) My Grandson was playing on the side of the house when this picture was taken. If you look directly in front of him is a huge green eye. Behind this is a profile of a female with long dark hair, we believe this is Casey. Throughout the energy source are several very distinct faces turned in different directions. We call it the energy source for lack of better terms. Look to the back of the house and you can see where the sun is blocked by the house so we know it's not from this. We also have the noises, we've heard a female voice twice. The bed occasionally lightly vibrates and in one room you feel like someone is watching you.