Witness: [Name Withheld Upon Request]
Location: Dublin, Ireland
Date of Encounter: November 14, 2002
Click on picture for larger view.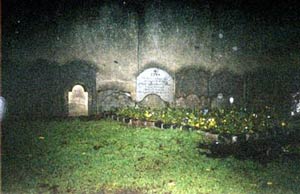 I went on the Dublin, Ireland Ghost Bus Tour and had a blast! I highly recommend anyone who visits Dublin go on this tour (and buy your tickets in advance, it sells out fast.) Anyway, one of the stops is St. Kevin's Graveyard, a graveyard known for its body-snatching back in the days when Dublin surgeons in the 1800s needed bodies to cut up, and was said to be very haunted. So I started popping off pictures — the whole time aiming at total blackness, because there were no lights at all. Invisible to the naked eye but appearing on film, I was amazed to find several orbs decided to show up and say "Hi." Some even have "motion-tails" that trail below them, showing that they are in motion and moving upwards. Good stuff. Whose to say if they are spirits or just some new life-form unknown to man? Whatever they are, I just think they are cool looking and wanted to share them.