Witness: Dave Adams
Location: New Carlisle, Ohio
Date of Encounter: 2002
Both of these pictures were taken at a local, family graveyard near New Carlisle, Ohio (About 20 miles north of Dayton). We took these two pictures with two different cameras about two seconds apart from each other. The cameras were about two inches apart from each other when they took the picture. One camera was a Fuji, the other was a Nikon, both are digital cameras. The third picture is the first two side-by-side.
Click on pictures for larger view.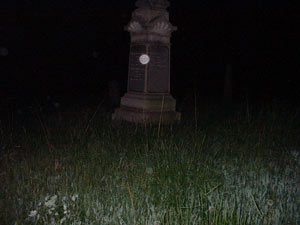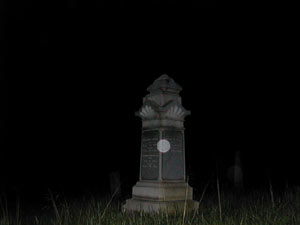 The graveyard does have a history of being haunted. We were there just last weekend using a point-and-shoot thermometer and the temperature read 73 degrees all over except for one ten-by-ten foot area where the temperature was 49 to 52 degrees. At times it seemed like the cold spot moved around us. On calm nights, and with when the moon is just right you can hear a voice and other strange noises. I would say this place is haunted, I'm just not sure what kind of haunting it is.