Witness: [Name Withheld Upon Request]
Location: Carrollton, Texas
Date of Encounter: August 2008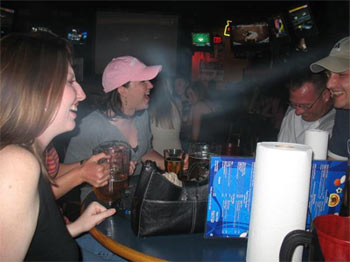 Though none of us knew anything had happened at the time, a few days later we were loading pictures of our get together at a local pub when we noticed a strange fog that appears to be shooting out of nowhere around my head (I'm in the pink hat). No one at the table was smoking, but even if someone were, I've never seen smoke act like that. We joke that it's the ghost of a former patron, but honestly we just think it's awesome… too bad the ghost didn't pick up the tab!