About Ghost Chronicles | View the Archives | Join the Discussion

Length: 46 minutes
File Size: 52.1 MB (MP3 File)
Show description: Author and archeological investigator, Frank Joseph joins Ron, Maureen, and Jan to discuss the lost world of Atlantis. Topics of conversation include: How was it destroyed, what became of the survivors, and what impact did it have on American civilization. Will Atlantis ever be found? Tune in and find out!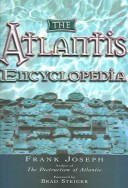 The Atlantis Encyclopedia by Frank Joseph.
To listen to this episode of Ghost Chronicles in your Web browser, just click on the microphone. To download the episode, right-click on the microphone icon and select "Save target as…"