About Ghost Chronicles | View the Archives | Join the Discussion

Length: 36 minutes
File Size: 40.7 MB (MP3 File)
Show description: Fiona Broome of Hollow Hill and Welsh Psychic Medium, Gavin Cromwell join Ron as he returns to America's Stonehenge in Salem, New Hampshire. Using dowsing rods and their psychic intuition, they investigate several hot spots including the shape-shifting stone, watch house, east-west burial chamber, and the sacrificial alter. Did the team hear and record a disembodied voice? Tune in and find out!
For more information on America's Stonehenge go to: www.stonehengeusa.com
For more information on Gavin Cromwell go to: www.gavincromwell.com
For more information on Fiona Broome and Hollow Hill go to: www.hollowhill.com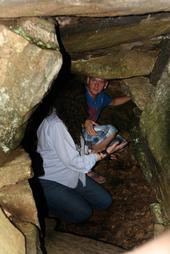 Fiona Broome and Gavin Cromwell at America's Stonehenge.
To listen to this episode of Ghost Chronicles in your Web browser, just click on the microphone. To download the episode, right-click on the microphone icon and select "Save target as…"