About Ghost Chronicles | View the Archives | Join the Discussion

Length: 25 minutes
File Size: 28 MB (MP3 File)
Show description: Ron and Maureen interview Jeff Belanger in bug-infested Freetown State Forrest, Massachusetts, while in search of the mythical Pukwudgie. Topics of conversation include Jeff's new book Weird Massachusetts; ghost hunting groups, myths and legends, and pink flamingos. Did Ron find evidence of the Pukwudgie? Tune in and find out.
For more information on Weird Massachusetts go to: www.jeffbelanger.com/weirdmassachusetts.shtml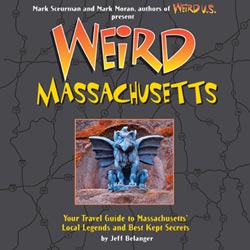 Jeff Belanger's latest book, Weird Massachusetts: Your Travel Guide to the Massachusetts's Local Legends and Best Kept Secrets.
To listen to this episode of Ghost Chronicles in your Web browser, just click on the microphone. To download the episode, right-click on the microphone icon and select "Save target as…"