About Ghost Chronicles | View the Archives | Join the Discussion

Length: 62 minutes
File Size: 70.5 MB (MP3 File)
Show description: The infamous Lizzy Borden House is the target of a joint investigation by The New England Ghost Project, the English ghost hunting group, Haunted Devon, and Welsh psychic, Gavin Cromwell. The evening starts, almost immediately, with a "spirited" confrontation between Ron and Maureen and ends with a session of UK "glass swirling." Ron, Maureen, Gavin, and Byron all reveal their impressions of the evening and the evidence colleted. Infrared footage of the evening and Maureen trance channeling can be seen of the Haunted Devon Web site. Who killed the Bordens? Tune in and find out!
For more information on the Lizzy Borden House go to: www.lizzie-borden.com
For more information on Haunted Devon go to: www.haunted-devon.co.uk
For more information on Gavin Cromwell go to: www.gavincromwell.com
For more photos from the Lizzie Borden investigation, visit: www.myspace.com/newenglandghostproject
Watch Ghostvillage's Paranormal Journeys on the Lizzy Borden House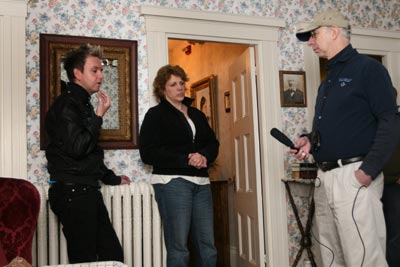 The Lizzie Borden House in Fall River, Massachusetts. Photo by Laura Wooster.
To listen to this episode of Ghost Chronicles in your Web browser, just click on the microphone. To download the episode, right-click on the microphone icon and select "Save target as…"