About Ghost Chronicles | View the Archives | Join the Discussion

Length: 58 minutes
File Size: 66.0 MB (MP3 File)
Show description: On Vlad the Impaler's Birthday, Ron and Maureen interview Psychic Vampire, Michelle Belanger. They discuss both blood and psychic vampires. Topics of discussion include the vampire community, vampire news items recently reported in the press, the Necronomicon, and other vampire-related topics. What is real and what is myth? Tune in and find out for yourself.
For more information on Michelle Belanger go to: www.michellebelanger.com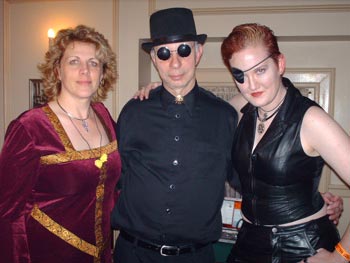 Maureen (left), Ron (center), and Michelle Belanger whoop it up at the Witch's Ball in Salem.
To listen to this episode of Ghost Chronicles in your Web browser, just click on the microphone. To download the episode, right-click on the microphone icon and select "Save target as…"