About Ghost Chronicles | View the Archives | Join the Discussion

Length: 54 minutes
File Size: 61.3 MB (MP3 File)
Show description: Allison Andrews and Jose Collado from the hit television show and podcast Haunted Australia join Ron and Maureen for a look at things Down Under. Topics of conversation include the television show, deadly creatures, ghost investigations, and scary moments. Did the crew of Haunted Australia capture the voice of a Sheep-Man? Tune in and find out.
For more information on Haunted Australia go to: www.mysticalguides.com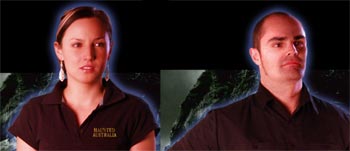 Allison Andrews and Jose Collado from Haunted Australia.
To listen to this episode of Ghost Chronicles in your Web browser, just click on the microphone. To download the episode, right-click on the microphone icon and select "Save target as…"