About Ghost Chronicles | View the Archives | Join the Discussion

Length: 47 minutes
File Size: 56.8 MB (MP3 File)
Show description: Chris Balzano of Massachusetts Paranormal Crossroads joins Ron and Maureen on a trek through the Lynn Woods to find haunted Dungeon Rock. The Rock was reportedly the home of pirates, treasure, and the Spiritualist movement in Massachusetts. A satanic cult may even be linked to the rock and its cave. Join Chris, Ron, and Maureen as the try to unravel the mystery of the rock. What lies in wait for them as they travel deep into the bowels of the cave? Tune in and find out.
For more information on Dungeon Rock go to: www.flw.org/dungeonrockhistory.htm. For more information on Chris Balzano and Massachusetts Paranormal Crossroads go to: www.masscrossroads.com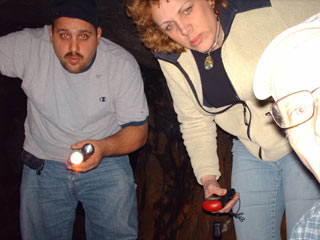 Chris Balzano, Maureen Wood, and Ron Kolek's right eye at Dungeon Rock.
To listen to this episode of Ghost Chronicles in your Web browser, just click on the microphone. To download the episode, right-click on the microphone icon and select "Save target as…"