About Ghost Chronicles | View the Archives | Join the Discussion

Length: 51 minutes
File Size: 58.3 MB (MP3 File)
Show description: In Connecticut, Ron and Ron Jr., investigate the haunted home of author and paranormal investigator, Thomas D'Agostino and his wife Arlene. Using the Shack Hack, pendulum, L-rods, and EVP's they team up to make contact with the spirits of the former nursing home. What do they have to say? Tune in and find out!
For more information on Thomas D'Agostino go to: www.nepurs.info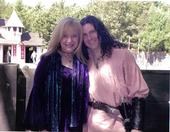 Arelene and Tom D'Agostino
To listen to this episode of Ghost Chronicles in your Web browser, just click on the microphone. To download the episode, right-click on the microphone icon and select "Save target as…"