About Ghost Chronicles | View the Archives | Join the Discussion

Length: 44 minutes
File Size: 40.9 MB (MP3 File)
Show description: Recorded live in a cemetery, Maureen and Ron discuss what transpired at "Spectral Evidence," an event they hosted with the Salem Witches at the haunted Lyceum restaurant.
Also in the show are interviews with Salem Witches Shawn Poirier and Christian Day. They discuss the Festival of the Dead, spells, and other witchy stuff. We also have a ghost encounter presented by Jeff Belanger of Ghostvillage.com.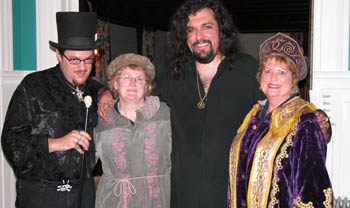 From left to right: Christian Day, NEGP member Jan Kolek, Shawn Poirier, and NEGP member Linda Monfet.
To listen to this episode of Ghost Chronicles in your Web browser, just click on the microphone. To download the episode, right-click on the microphone icon and select "Save target as…"