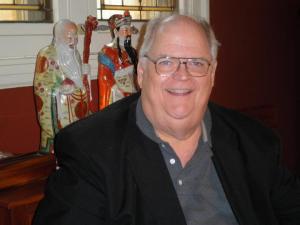 Beloved Chicago ghost hunter Richard T. Crowe has passed on to the world he talked about for generations with an unmistakable voice and a storyteller's gift.
The man who began possibly the world's first ghost tour business- Chicago Supernatural Tours — died of pancreatic cancer on Wednesday evening, shocking his many thousands of lifelong fans who grew up tagging behind him on tours with rapt attention and listening to him on late-night radio, where he'd often be found as a guest of Chicago radio host Eddie Schwartz.
Crowe's buses could often be seen on weekend nights from the 1970s to his death, seventy-passenger buses loaded with seekers of the supernatural. Despite fluctuating economies, the legendary Crowe never ceased to draw a crowd. An imposing figure, his voice matched his frame, and his talent for telling a tale sent his guests home generation after generation remembering his name– and his stories.
Indeed, the stories that Crowe told were the very first ghost stories ever collected in Chicago. For before he was a professional tour guide, Crowe was first a folklorist, with a Masters degree in English literature from Chicago's DePaul University. As a folklorist his professional work was to collect the stories of the local people, something he'd been doing his whole life, and he did so wonderfully. Richard's ghost stories created the framework for what has evolved into one of the richest collections of ghostlore in the nation. And those stories remain the golden core of it all.
It was Richard who first collected the story of the cursed bricks of the wall at 2122 North Clark Street, the site of the St. Valentine's Day Massacre. Richard who first told us of the cold spots in the alley where John Dillinger was shot, on the steamy July night in 1934, with Chicago police and FBI swarming the neighborhood. It was Richard who first told of the hooded spirits who visited Saint Rita Church on All Souls Day, and of the day the Devil came to Bridgeport. And it was Richard who first told us about Resurrection Mary, taking her story out of the houses and the taverns of the Southwest side once and forever, and introducing her to all of us for always.
Despite the close ties of his name to Chicago folklore, Crowe was also an avid traveler, taking many trips to Salem, Gettysburg and New Orleans, and spending much time in England and Scotland, as well as Yugoslavia, Mexico, Jamaica and Macau. Richard developed a deep love of China, in later years coming to offer Haunted Chinatown tours in Chicago. Despite his wide travels, Chicago was home, and Richard lived most of his adult life in a reportedly haunted house on the southwest side where he grew up, surrounded by haunted objects and artifacts, including, according to legend, the bars from Resurrection Cemetery that were bent by the famous phantom.
Crowe also co-produced, in 1986, the DVD, The Ghosts of Chicago, the first documentary of Chicago true ghost stories, which was considered for an Emmy.
Like many, many other fans, I had written Richard several letters over the years asking him to write down his stories and, when he expressed, repeatedly, that he wasn't interested in writing. As a historian, I decided to research and record some local tales in the interest of posterity. This didn't apparently sit well with him. This pained me to no end, as I adored him. But life goes on, and circumstances led me further along the ghost hunter's path.
As the years went on and we started our Chicago Hauntings Tours, I would sometimes see him along our tour route, as our buses would sometimes be in the same place at the same time, his huge seventy-passenger double coaches, and our little, twenty-seven passenger school bus. I'd wait with my bus until his crowd was done. I'd look in his direction eagerly, hoping he'd smile at me, but he never looked my way. <>
When I published Chicago's Haunts 3, I dedicated it to "Chicago's original ghost hunter, Richard T. Crowe, and the late Eddie Schwartz."
A few months later, in October, I was giving a tour and, leaving Chicago's most haunted house, Hull House, I turned to take our guests back to the bus, and Richard's bus was pulling up. I called to everyone behind me to hurry up, not wanting to be in Richard's way, but as I neared our bus, he stepped off his and looked in my direction. To my great delight, he smiled.
Richard's sister, Joann has announced the following funeral services for her brother: the wake will be from 3-9 p.m. on Monday, June 11, 2012, at Modell Funeral Home, 5725 S. Pulaski Rd., Chicago, IL 60629 (1-773-767-4730). Funeral will be Tuesday, June 12, 2012 at 9 a.m. from the funeral home to St. Patricia Church, 9050 S. 86th Avenue, Hickory Hills, IL 60457. Interment, of course, will be at Resurrection Cemetery. A group of ghost hunters and me will be retiring to Chet's Melody Lounge across Archer Avenue after the interment. All are welcome to join us for Bloody Marys in Richard's honor.