Witness: Mark Parker
Location: Waverly Hall Cemetery, Waverly Hall, Georgia
Date of Encounter: November 7, 2004
Click on picture for larger view in pop-up window.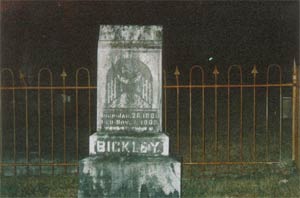 At 1:00 AM my wife, two sons, and I visited Waverly Hall Cemetery with a 35mm camera and a microcassette recorder for 20 minutes. We listened to, and were blown away by, the 6 EVP we got. We developed the film the next day and out of the roll there was one picture with orbs (to the right of the headstone). A week later a friend brought our attention to the face at the bottom center of the headstone.