Witness: Michael Wright
Location: Milton, Florida
Date of Encounter: January 12, 2008
This photo was taken here on our property, near the Yellow River right out side of Milton, Florida. The photo was taken on January 12, 2008. It was very cold, around 40 degrees outside in our back yard. In this area lots of activity goes on here all the time, day or night, but mostly at night.
We think it is a portal from one plane to another. We have gotten thousands of photos in this area. At the time we bought the property, the land was complete flat. We have lived here for the last 17 years. Since then, the ground is sinking everywhere, as if graves had been covered up, and with all of the bad weather we have had over the years, if they had covered up the sinking ground with new dirt, it's sinking in more.
It is unbelievable until you see what I am talking about. I am part medium and a spiritual photographer which is why I can get these most unusual photos that you see. You viewers out there that have seen my work before, know what I am talking about.
Let me tell a little history about the land. It was homesteaded in 1907 by a colored man named William Anderson and he had one son named Albert L. Anderson, but William Anderson was married three times. Anyway, in 1970, Albert L. Anderson sold the property to two brothers here in Milton, (I will not mention their names to kept it private, but in the Deed Record Department for Santa Rosa County, you can find out if you are interested).
We have had gone to the archives and in these papers, they show a cemetery book for Santa Rosa County and there was once an old slave cemetery on Nichols Lake Road, which points to our property. We think that someone removed the headstones, but not the graves.
This is why we are having so much activity here. Besides that I am part medium and spiritual photographer. Now what you are about to see is this photo, is located at the end of an old mobile storage shed. That night and every night when I go out, I wait for about half an hour and start talking to my spirits, until I can feel their presence. On this particular night I was asking if there was any pirates here, and if so, please be in my picture. I have taken several photos, then I asked just joking around, show me where the treasure is buried. Then I snapped this photograph. What you see in the first photo, you can see these so-called pirates standing at the corner of the old mobile storage shed. Look close, and you can see the man's dark hair and his pointed nose, and big eyebrows. Look close and you can see the big treasure chest which looks to me like it has straps going upward across the top, and one large handle on the end.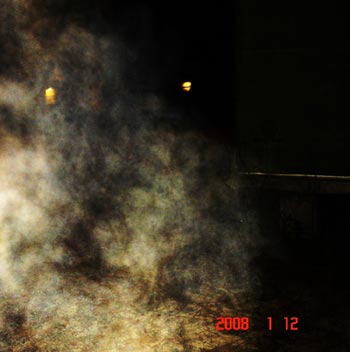 Other photos of other spirits faces are all around the chest, and the one main pirate. What a shot this is, if I say so my self.
Now, the other photos I added onto this story because it all goes together. We had a new room built onto our house in the front. While we had the construction going on, we had strange things going on in this room. Things come up missing, orbs everywhere, and now every night if I remove these pictures off the wall by the mirror, you can see a picture of a pirate face on the wall with writing under the photo, but the writing is not in English — we think it could be Spanish or French. Florida became a state in 1821, before that, it was under Spanish rule. This is why we think it's Spanish. At one time it was under French rule too!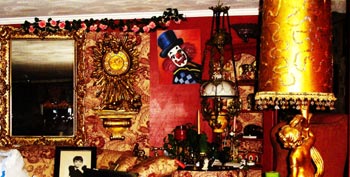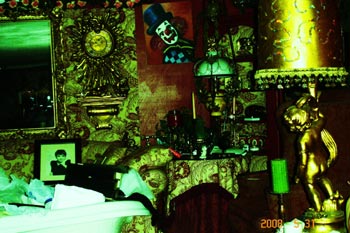 Maybe some of you can see and make out one of the words and can tell us about what you think. I did remove the top painting of the clown, which is me (I used to be with Ringling Brothers Circus for over 32 years, but I'm now retired). I removed that painting and you can see another face above the pirate face.Very strange. I have even put it on video — I will put that on later so everyone can see it.
Michael Wright
Milton, Florida
Spirits On The Land