About Ghost Chronicles | View the Archives | Join the Discussion

Length: 58 minutes
File Size: 65.9 MB (MP3 File)
Show description: Van Helsing and the Queen travel to Salem, Massachusetts, and visit Salem's only monster museum, Count Orlok's Nightmare Gallery. They interview James Lurgio, the owner of the gallery, and Holly, one of his employees. Also in this show, radio host and author, Marla Brooks discussing spectral sightings of Bella Lugosi and Lorne Chainey and the Curse of the Poltergeist movie. Does Ron and Maureen's presence stir things up at the gallery? Tune in and find out!
For more information on Count Orlok's Nightmare Gallery go to: www.nightmaregallery.com
For more information on Marla Brooks go to: www.hauntedwriter.com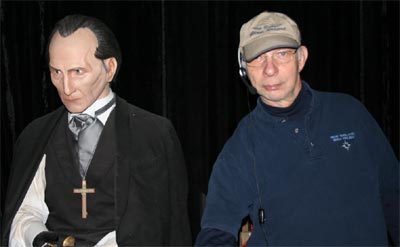 Who is the real Van Helsing?
To listen to this episode of Ghost Chronicles in your Web browser, just click on the microphone. To download the episode, right-click on the microphone icon and select "Save target as…"