About Ghost Chronicles | View the Archives | Join the Discussion

Length: 36 minutes
File Size: 34.2 MB (MP3 File)
Show description: Ron and Maureen interview Sozo from the famed Winchester Mystery House in San Jose, California. This house was built by Winchester Rifle heiress Sarah L. Winchester under the direction of the spirits. Is this house still inhabited by these spirits? Tune in and find out what Sozo thinks. Also in the show: another haunted encounter by Ghostvillage founder and author Jeff Belanger, a discussion of a letter on a "haunted house" and Maureen and Ron try to find Maureen's mother a date.
For more information on the Winchester Mystery House go to: www.winchestermysteryhouse.com
The Winchester Mystery House: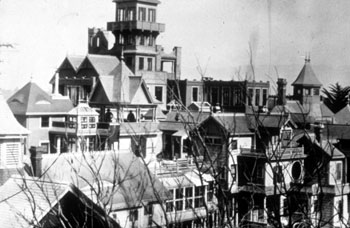 To listen to this episode of Ghost Chronicles in your Web browser, just click on the microphone. To download the episode, right-click on the microphone icon and select "Save target as…"