About Ghost Chronicles | View the Archives | Join the Discussion

Length: 45 minutes
File Size: 51.8 MB (MP3 File)
Show description: On Poe's Birthday, Ron and Maureen try to entice the restless spirit into the studio with a cake, roses, and a bottle of cognac. Poe's life and death are also discussed as actor/director Ric White recites Poe's most famous poem, "The Raven" in an attempt to "conjure up" the spirit. Does the spirit of Poe pay a visit to the studio? Tune in and find out.
For more information on Ric White and Nightmares from the Mind of Poe go to: www.poenightmares.com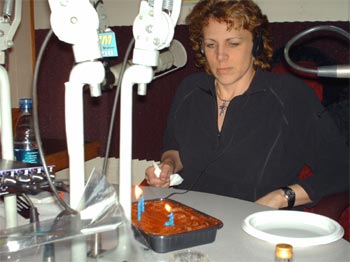 Maureen and Poe's birthday cake.
To listen to this episode of Ghost Chronicles in your Web browser, just click on the microphone. To download the episode, right-click on the microphone icon and select "Save target as…"