About Ghost Chronicles | View the Archives | Join the Discussion

Length: 73 minutes
File Size: 85.2 MB (MP3 File)
Show description: Ron and Stacy (case manager for the NEGP) broadcast live from the Circles of Wisdom in Andover, Massachusetts. While at the metaphysical bookstore they interview astrologer, Dorothy Morgan, tarot reader, Holly Currier, who is only sixteen years old, Joy Costanza, spirit removal specialist, and some of the customers. Also in the broadcast is an important message from Ron and Maureen. What lies ahead for Ghost Chronicles? Tune in and find out.
For more information on Circles of Wisdom go to: www.circlesofwisdom.com
For more information on astrologer Dorothy Morgan go to: www.naturalritescharms.com
For more information on Joy Costanza go to: www.joycostanza.com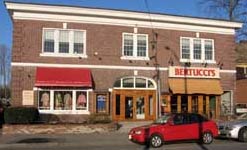 Circles of Wisdom in Andover, Massachusetts.
To listen to this episode of Ghost Chronicles in your Web browser, just click on the microphone. To download the episode, right-click on the microphone icon and select "Save target as…"