About Ghost Chronicles | View the Archives | Join the Discussion

Length: 44 minutes
File Size: 50.0 MB (MP3 File)
Show description: Back in the WCCM studio Ron and Maureen interview John Kachuba, author of Ghost Hunting Ohio, Ghost Hunting Illinois, and his most recent work, Ghost Hunters. Also in this broadcast is another Haunted Encounter by Ghostvillage's Jeff Belanger. Ron, John and Maureen join in a lively discussion about the spectral July 4th funeral procession and the idea that spirits attend their own funeral. Is Oprah's studio haunted? Tune in and find out.
For more information on John Kachuba go to: www.johnkachuba.com
To read the print interview with John Kachuba on Ghostvillage.com, click here.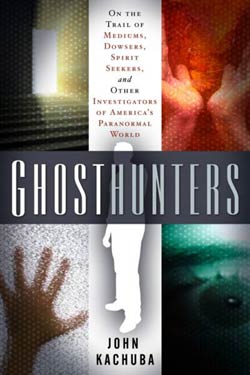 John Kachuba's latest book, Ghosthunters.
To listen to this episode of Ghost Chronicles in your Web browser, just click on the microphone. To download the episode, right-click on the microphone icon and select "Save target as…"