About Ghost Chronicles | View the Archives | Join the Discussion

Length: 66 minutes
File Size: 75.7 MB (MP3 File)
Show description: Ron and Maureen travel to Madison, Georgia to investigate the home of romance writer Deidre Knight. Maureen makes contact with the former owner and guardian of the house, Sissy. She also channels a little girl in the upstairs closet and Ron leads a cumbiya session in the attic. Are the imaginary friends of the children really ghosts, and what does a trip to the local cemetery reveal? Tune in and find out.
For more information on Deidre Knight go to: www.deidreknight.com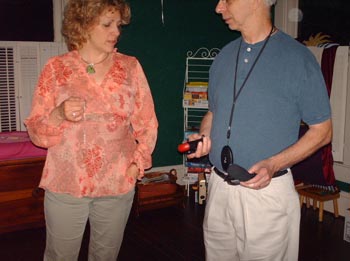 Maureen and Ron in the Knight house.
To listen to this episode of Ghost Chronicles in your Web browser, just click on the microphone. To download the episode, right-click on the microphone icon and select "Save target as…"