About Ghost Chronicles | View the Archives | Join the Discussion

Length: 47 minutes
File Size: 53.9 MB (MP3 File)
Show description: Ron, Maureen, and The New England Ghost Project investigate the Tenney Gatehouse and the ruins of Grey Court Castle. Also in the show is an interview with Joe Bella, the president of the Methuen Historical Society, an interview in the studio with Christine whose family lived in the Tenney Gatehouse, and a discussion of a Ghost Hunt Seminar held at the Gatehouse. Ron dons a monk's robe to invoke the spirit of a ghostly monk and the entire investigation turns ugly when the group stumbles across a Satanic gathering spot and a demonic entity. Was this a trap? Tune in and find out.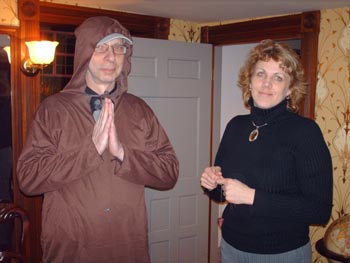 Monk Ron Kolek and Maureen Wood at the Tenney Gatehouse investigation.
To listen to this episode of Ghost Chronicles in your Web browser, just click on the microphone. To download the episode, right-click on the microphone icon and select "Save target as…"