About Ghost Chronicles | View the Archives | Join the Discussion

Length: 39 minutes
File Size: 44.5 MB (MP3 File)
Show description: Folklorist Dr. Michael Bell joins Ron and Maureen for a spirited discussion of the Sprague Mansion, New England's Vampires, Voodoo, and some of Dr. Bell's own experiences in dealing with the paranormal. Also in the show are discussion of his book Food for the Dead and a ghostly encounter from Ghostvillage.com. Who haunts the Sprague Mansion? Tune in and find out!
For more information on Dr. Michael Bell go to: www.foodforthedead.com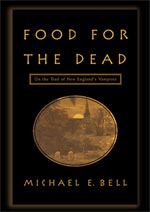 Dr. Michael Bell's book, Food For the Dead.
To listen to this episode of Ghost Chronicles in your Web browser, just click on the microphone. To download the episode, right-click on the microphone icon and select "Save target as…"