Witness: Midwest/Minnesota Paranormal Society
Location: Colfax County, Minnesota
Date of Encounter: July 26, 2009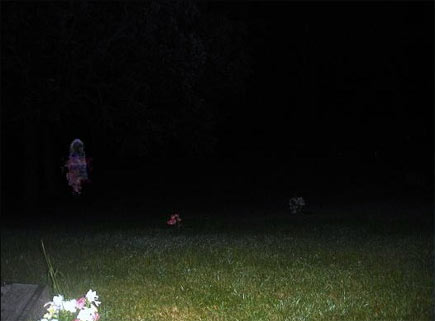 MMPS (Midwest/Minnesota Paranormal Society), which is our group, took this photo on the night of July 26, 2009. We were investigating a local legend called "Timber Lake Road." We have been there about five times now since the beginning of year and haven't caught much of anything until we investigated the Colfax Cemetery more. We shot this photo about roughly 12:45 AM or so. The story goes that there have been many sightings of red eyes in the forest, screams, dogs barking, and the barking getting closer and closer to you, moans from a woman, and strange shadows. In the winter there are many piles of dead rats. There is a cemetery on the same road where this woman was said to be buried. Children have also been seen in the cemetery.
We have tried to debunk this photo as a glare as it is directly above a grave stone (daylight picture included below), but cannot. We took several pictures the next night at the same location and during the day but to no avail, we could not reproduce it or catch it again anywhere else. We made sure to use the same camera to take all the pictures. The camera was a Cybershot 7.2 megapixel. A couple notation's about feelings; I felt as if I was being hunted — that feeling inside like something is about to pounce and rip you apart. The cofounder, John, felt cold spots and got goose bumps.