Witness: Lisa Chascsa
Location: Williamsburg, Virginia
Date of Encounter: April 30, 2008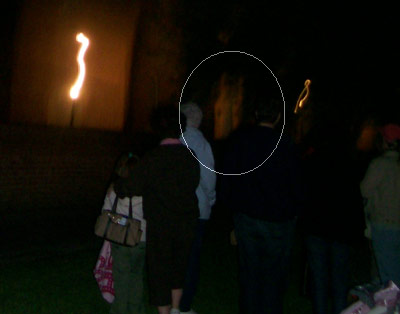 My family and I recently visited Williamsburg, Virginia and decided to do the Ghost Tour. While on the tour, I snapped over 40 pictures of what seemed to be just existing replicating structures. However, when I downloaded the photos, I captured one that had an odd apparition which appeared to be along the walkway in the distance. When I cropped the photo, without prompting any of my relatives, they all got chills as they viewed a photo of what appeared to be a woman in colonial attire floating along the streets.
A couple of days later, I purchased a book called The Hauntings of Williamsburg, Yorktown, and Jamestown. It wasn't until we left Williamsburg last Saturday and I was back home in New Jersey that I had time to read the book and when I read page three, I got goosebumps all over my body. It described in detail that recently there was a visitor who photographed the Bruton Parish Church and had figures that seemed to jump off of the paper. Those figures were described as "apparitions" of two men and two women dressed in nineteenth century attire. Well, my photos were also taken at that very same location.