GHOSTVILLAGE.COM NEWSLETTER #141 - November 21, 2013

Buy Books by Jeff Belanger | Jeff Belanger's Official Web site | Visit UFOvillage.com | Like us on Facebook | Paranormal for Kids | Meet the Staff | Advertise with Ghostvillage.com

31,030 Subscribers to this newsletter!

Be sure to forward this on to your friends who are interested in the supernatural!

Jeff Belanger's new TV series on PBS premieres this Fall! http://ournewenglandlegends.com/
---
You are receiving this email because you or a friend signed you up at http://www.ghostvillage.com. If you would like to be removed from this mailing list, please see the instructions at the bottom.
View this newsletter online at: http://www.ghostvillage.com/newsletters/Nov21_13.htm
---
Dear Ghostvillagers,


What is it about New England? I grew up here, so it's easy for me to take it for granted. But when I travel and tell people where I'm from, I often hear, "Man, you're lucky! You guys have all of the best haunts." While there are truly great haunts all over the world, I understand what they mean. New Englanders tend to embrace our old buildings, our history, and even our ghosts.

We're a bit more matter-of-fact about hauntings in these parts. "Yes, the house was constructed in 1820, and I've heard it's haunted," you might hear someone say. We don't even whisper such things. Head over to Europe where a house built in 1820 is considered a baby, and you might hear, "Of course it's haunted! It's 400 years old!"

New England. So much history and legend, from Native American tales that go back thousands of years, to the first shots fired in the Revolutionary War. Our mountains, rivers, lakes, buildings, and ocean set a rich tapestry and stage for both the quick and the dead. Being autumn, we get the best of that tapestry. We get the harvest of the land like crisp apples off the tree, and the harvest of the sea as shellfish and other sea creatures start to fatten up for the winter. And right in the middle of all of this autumn calendar is Halloween.

For the last year or so, I've turned a lot of my attention toward home. Earlier this year I announced my 2014 Haunted New England Wall Calendar, and last month I gave you a sneak peek at my new PBS project: New England Legends. DVDs are now available for sale on our Web site. My goal is to take you into the history and legends like never before. These legends define us as much as our ancestors did, and as much as the landscape. I hope you'll support me in this project by buying the DVDs. We're shipping them out daily, so you'll get them soon if you order today!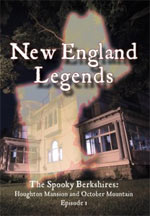 Being November, we're also knocking on the holiday season. Last week I finished my last event for the year. I've met thousands of new people this fall, investigated new locations, and enriched my life in doing so. Thank you to everyone who came out to see me. Now that winter is coming, it's time for me to go back to the lab and work on a bunch of new material for next year.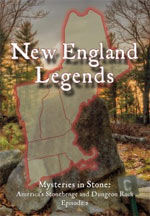 One of those projects includes my book on time travel. I'm now focusing a lot more attention on that subject. I'm still actively seeking people who believe they have had some kind of time slip or time travel experience. What makes a time slip experience different than a ghost experience is this: With a ghost experience, the "ghost" is out of place in our time and space. For example, you're in a restaurant, there are electric lights on the wall, flat-screen TVs hanging behind the bar, etc. and a woman in Victorian dress floats by and disappears. In that case, the "ghost" was out of place. With a time slip, you are out of place. Taking that same example, you walk into that same restaurant, and suddenly you see people in Victorian dress, no electric lights, no TVs, no modern anything. The entire scene is from a different time period. It may last only a second or two, or the experience may go on for what seems like minutes before you're returned to modern time.

If you've had a time slip experience, I'd appreciate hearing from you!

Enjoy the rest of the newsletter below!

Supernaturally yours,

Jeff Belanger
Mayor of Ghostvillage.com
Twitter: @THEJeffBelanger
Facebook: Jeff Belanger
YouTube: www.youtube.com/legendtripping





Jeff Belanger's Upcoming Events

This is the place to find out where author and Ghostvillage.com founder Jeff Belanger will be speaking on the subject of the paranormal. If you're interested in booking Jeff for a conference or other event, please visit: http://www.jeffbelanger.com/lectures.php for more information.

Events Scheduled:

Oddfest 2013 – Knuckleheads - New Bedford, Massachusetts - December 13, 2013
Jeff Belanger TEDx talk – Spence School - New York, New York - January 28, 2014
A Weird Massachusetts Evening with Jeff Belanger - Norton Public Library - Norton, Massachusetts - August 12, 2014 6:30PM



How to win: Entries will be accepted up until 5:00 PM (eastern time) tomorrow (November 22, 2013). At 5:00 PM, we will draw a winner at random from the correct entries that have been received. You no longer have to be the first, but you only have until 5:00 PM to get your answer in. If you click on this link: http://www.ghostvillage.com/index.shtml#winner, you see today's date, and "We have a winner!" that means the contest has ended. Sorry, please try again next month. To submit your entry, simply reply to this email with the correct answer.

Congratulations to Greg Curtis of Mitchell, Indiana, who was last month's winner!

On to this month's question: This question can be answered by reading a page on Ghostvillage.com. Remember, reply by 5:00 PM tomorrow to be eligible to win.

When did Toby Evans discover a disappearing underground tunnel in Germany?

At 5:00 PM tomorrow, we will announce the winner on our home page. Good luck! (Only Ghostvillagers who have not won a prize from us in the last year are eligible.)



This month's prize: We're giving away autographed copies of Jeff Belanger's 2 new DVDs: New England Legends and a Ghostvillage.com window sticker!


Didn't win? Want to buy a copy? Click on the graphic.



Our "Features" section is a place for editorials, research articles, open letters to our readers, and other content of interest to Ghostvillagers. If you have a topic on your mind, agree or disagree with something you read recently, we want to hear from you! For guidelines, click here.

New features added since our last newsletter:

The Water Horse of Lake Champlain with Katy Elizabeth November 12, 2013 [VIDEO]
LIVE from the 2013 Chicago Ghost Conference October 15, 2013 [VIDEO]





Ghostvillage.com Advertising Opportunities

Each month Ghostvillage.com reaches tens of thousands of people interested in the paranormal. We offer the most effective and best-valued advertising and sponsorship packages of any paranormal media outlet. Please visit: http://www.ghostvillage.com/advertising.htm for details.

If you're ready to put Ghostvillage.com to work for your company or organization, send us an email to get started.


We receive personal encounters from all over the world. Many are scary, some are touching, but they are always profound. If you would like to share your own experience, please click >>here<<. Since our last newsletter, we added the following new encounters:

My Psychic Awakening -- San Diego, California
Spectral Attack in My Sleep -- Leicester, United Kingdom
The Disappearing Underground Tunnel -- Rhein-Main Air Base, Germany
A Visit from My Friend -- Central Falls, Rhode Island
Spirit Attachment at the Palmer House Hotel -- Sauk Centre, Minnesota
Dark Figures and a Sultry Voice -- San Francisco, California
Our Haunted Home in the Vanderlip Estate -- Palos Verdes, California
The Dead Lady in My Room -- South Australia





Hot Threads and the Ghostvillage.com Community

In the past month, tons of new people registered for free to join our supernatural discussion! Have you?

If you have registered for our message boards but haven't validated your account yet, it's simple to do! Look for the email that was automatically sent to you when you registered and click on the account activation link in the email (note: some bulkmail filters may block this email, so you'll need to check your bulkmail folder if the validation email didn't immediately come through). There are always great discussions going on in our huge message board community. We hope you'll get involved. It's free to register if you're not already a member. Here are some of the hot topics this month:

Urban Legends, Myths, and Folklore
http://www.ghostvillage.com/ghostcommunity/index.php?showtopic=33270
Black-eyed people: do they exist?

Personal Encounters
http://www.ghostvillage.com/ghostcommunity/index.php?showtopic=33425
I think I am haunted.

Beginner's Block: In your area?
http://www.ghostvillage.com/ghostcommunity/index.php?showtopic=33340
Rhode Island-based team looking for new members.

General Board
http://www.ghostvillage.com/ghostcommunity/index.php?showtopic=33424
It's behind you!

Haunted Places
http://www.ghostvillage.com/ghostcommunity/index.php?showtopic=33258
Greenfield Villiage in Dearborn, Michigan.

Skeptics
http://www.ghostvillage.com/ghostcommunity/index.php?showtopic=33402
Right, left, wrong: People reject science because...

Paranormal Media
http://www.ghostvillage.com/ghostcommunity/index.php?showtopic=33407
Zelda's Zombie Zoo.

Ghost Investigation Equipment
http://www.ghostvillage.com/ghostcommunity/index.php?showtopic=33426
Design requirements for inductive sensors for EVP work.

Spirit Communication
http://www.ghostvillage.com/ghostcommunity/index.php?showtopic=33404
Questions about seeing and feeling spirits.

Religion and Spirituality
http://www.ghostvillage.com/ghostcommunity/index.php?showtopic=32831
A Gnostic rite of exorcism.


Board of the Month -- New England Legends
http://www.ghostvillage.com/ghostcommunity/index.php?showforum=27
What are your favorite New England legends?




Ghostvillage.com Quick Stats:

326,222 Posts in the Town Square Message Boards
30,276 Members in the Town Square
1,135 "Personal Encounters" published on Ghostvillage.com
1,823 Paranormal Web sites in the Ghost Links directory
31,030 Subscribers to this newsletter


Ghostvillage.com is the Web's largest supernatural community, the central place where people come to share their experiences, thoughts, and research. Please help us continue to grow by buying a copy of The World's Most Haunted Places, Communicating With the Dead, The Encyclopedia of Haunted Places, The Nightmare Encyclopedia, Our Haunted Lives, Ghosts of War, The Ghost Files, Weird Massachusetts, Who's Haunting the White House?, The Mysteries of the Bermuda Triangle, Picture Yourself Legend Tripping, Chasing Spirits, 2014 Haunted New England wall calendar. Every little bit helps run our servers and helps the site get bigger and better! Please also click on our banner ads and support our advertisers -- when you do business with someone who advertises with Ghostvillage.com, let them know you saw their ad with us and thank them for the support.

Please email us anytime at info@ghostvillage.com. Your comments, questions, and feedback are always welcomed.


---
All material is © 2013 Ghostvillage.com
REMOVAL INSTRUCTIONS: To be removed from the mailing list, please go to www.ghostvillage.com/subscribe.shtml or click on the link below.