GHOSTVILLAGE.COM NEWSLETTER #152 - November 18, 2014

Buy Books by Jeff Belanger | Jeff Belanger's Official Web site | Visit UFOvillage.com | Like us on Facebook | Paranormal for Kids | Meet the Staff | Advertise with Ghostvillage.com

30,109 Subscribers to this newsletter!

Be sure to forward this on to your friends who are interested in the supernatural!

Jeff Belanger's Emmy-nominated series explores the ghosts, monsters, and mysteries of New England! http://ournewenglandlegends.com/
---
You are receiving this email because you or a friend signed you up at http://www.ghostvillage.com. If you would like to be removed from this mailing list, please see the instructions at the bottom.
View this newsletter online at: http://www.ghostvillage.com/newsletters/Nov18_14.htm
---
Dear Ghostvillagers,


History is a ghost story. This past weekend I had the opportunity to visit Erie, Pennsylvania, because I was giving a talk at Mercyhurst University. My connecting flight took me from Philadelphia to Erie. As the plane took off out of Philly, I couldn't help but think that I was following the same exact route as one of America's most famous ghosts: Revolutionary War hero, General "Mad" Anthony Wayne.

General Wayne earned his moniker "Mad" Anthony on July 16, 1779 when he led 1,200 light infantry troops against a British fort on the cliffs of Stony Point, New York, overlooking the Hudson River. With West Point just 12 miles away, the British presence was a huge threat. General Wayne led the charge under the cover of darkness. He told his troops they would use bayonets only, as gunfire would awaken everyone inside. Considering there were close to 600 British troops stationed inside the fortification, and the enemy held the higher ground, everyone told General Wayne he was crazy to attempt such a maneuver.

Within 30 minutes, Wayne's troops suffered 15 dead and 83 wounded. However, the British suffered 94 casualties and 472 were captured as Wayne took the fort. General "Mad" Anthony Wayne's legend soon spread. After the Revolutionary War, George Washington sent him to Ohio to help in the Northwest Indian War.

Wayne was just as successful in Ohio, but he fell ill with gout in December of 1796 and died at Fort Presqu'Isle in Erie, Pennsylvania, on the 15th of that month.

He was buried at the base of the blockhouse there, but that's not where his story ends. In 1808, General Wayne's son, Isaac, rode a small sulky carriage up to the fort to retrieve his father's body to be reinterred in the family plot at St. David's Church near Philadelphia. When Wayne's casket was dug up, they found his body had hardly decomposed.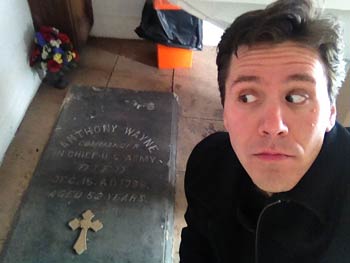 Dr. John Wallace dismembered and boiled the body of the General to separate the bones from the flesh so Isaac could take something back home. He placed the bones in a box, and put the flesh, Wayne's uniform, and the surgical implements used in the ghastly procedure back into the original grave and covered it with dirt.

Back in Erie, Wayne's original grave was lost in 1853 because a fire destroyed the original blockhouse. When his grave was rediscovered in 1878, a new blockhouse was built and a new marker was laid inside to honor the grave where some of the General still resides. "Mad" Anthony Wayne is one of the few historic figures with the distinction of being buried in more than one grave.

The ghostly legend comes from a story that claims as Isaac journeyed 360 miles back home to southeastern Pennsylvania, the box carrying the bones of his father spilled from his small carriage and some were lost en route.

Now, each January First (Wayne's birthday), the ghost of "Mad" Anthony Wayne is said to rise from where his bones are buried at St. David's Church and then glide northwest along modern-day Route 322 all the way back to Erie in search of his lost bones.

Today the blockhouse is under lock and key, but I was able to arrange access. To commemorate the moment I took a selfie. What would you do?

General Wayne's ghost story is the only thing to make him a more interesting figure than he already is. We should tell these tales because they connect us to who he was and where he's been. The story and the ghosts have a lot to tell us if we just listen.

Enjoy the rest of the newsletter below!

Supernaturally yours,

Jeff Belanger
Mayor of Ghostvillage.com
Twitter: @THEJeffBelanger
Facebook: Jeff Belanger
YouTube: www.youtube.com/legendtripping





Jeff Belanger's Upcoming Events

This is the place to find out where author and Ghostvillage.com founder Jeff Belanger will be speaking on the subject of the paranormal. If you're interested in booking Jeff for a conference or other event, please visit: http://www.jeffbelanger.com/lectures.php for more information.

Events Scheduled:

The Afterlife Paranormal Conference and Film Festival - Chicago, Illinois - November 21-23, 2014
A Weird Massachusetts Evening with Jeff Belanger at Holliston Public Library - Holliston, Massachusetts - January 29, 2015 7:00PM
A Supernatural Evening with Jeff Belanger at Conant Public Library - Sterling, Massachusetts - February 19, 2015 6:00PM
Dead of Winter at Lizzie Borden's - Fall River, Massachusetts - February 28, 2015
A Weird Massachusetts Evening with Jeff Belanger at Richards Memorial Library - Paxton, Massachusetts - March 5, 2015 7:00PM
An Evening of Ghost Stories and Haunted Places at Cary Memorial Library - Lexington, Massachusetts - March 18, 2015 7:00PM
A Supernatural Evening with Jeff Belanger at Uxbridge Free Library - Uxbridge, Massachusetts - March 23, 2015 6:30PM
Dark Journeys: Exploring Urban Legends with Jeff Belanger at the Whitman Public Library - Whitman, Massachusetts - June 15, 2015 6:30PM
A Supernatural Evening with Jeff Belanger - Gilford Public Library - Gilford, New Hampshire - July 9, 2014 6:30PM
Strange Escapes: The Haunted Mount Washington Resort - Bretton Woods, New Hampshire - August 28-29, 2015
Paranormal Disney World Trip - Orlando, Florida - September 11-13, 2015
A Supernatural Evening with Jeff Belanger - Bellingham Public Library - Bellingham, Massachusetts - October 7, 2015 7:00PM
A Supernatural Evening with Jeff Belanger - Lawrence Library - Pepperell, Massachusetts - October 22, 2015 7:00PM
A Supernatural Evening with Jeff Belanger - Kimball Library - Atkinson, New Hampshire - October 27, 2015 6:30PM



Congratulations to Cynthia Garbarsky of Williamstown, Massachusetts who was last month's winner!

How to win: Entries will be accepted up until 5:00 PM (eastern time) tomorrow (November 19, 2014). At 5:00 PM, we will draw a winner at random from the correct entries that have been received. You only have until 5:00 PM to get your answer in. The winner will be announced in next month's newsletter. To submit your entry, simply reply to this email with the correct answer.

This question can be answered by reading a page on Ghostvillage.com. Remember, reply by 5:00 PM tomorrow to be eligible to win.

According to the New England Legends segment on the origins of Halloween, what was the name of the cave where Halloween was born?

Only Ghostvillagers who have not won a prize from us in the last year are eligible. Good luck!



This month's prize: We're giving away autographed copies of Jeff Belanger's 3 DVDs: New England Legends and a Ghostvillage.com window sticker!


Didn't win? Want to buy a copy? Click on the graphic.





Ghostvillage.com Advertising Opportunities

Each month Ghostvillage.com reaches tens of thousands of people interested in the paranormal. We offer the most effective and best-valued advertising and sponsorship packages of any paranormal media outlet. Please visit: http://www.ghostvillage.com/advertising.htm for details.

If you're ready to put Ghostvillage.com to work for your company or organization, send us an email to get started.




New Articles Since Last Month


30 Odd Minutes: Mission 172 – Deep South Haunts with Benny Reed and Jonathan Hodges

Encounters: The Loud Noise in the Cave Springs Winery Cellars

Features: New England Legends: Origins of Halloween

Encounters: The Churning Fog in the Guest Room

News: Emmy-Nominated New England Legends Series Debuts on Rhode Island PBS with "Maritime Mysteries"

Encounters: The Girl on the Lake





Ghostvillage.com Quick Stats:

327,993 Posts in the Town Square Message Boards
30,511 Members in the Town Square
1,163 "Personal Encounters" published on Ghostvillage.com
30,109 Subscribers to this newsletter


Ghostvillage.com is the Web's largest supernatural community, the central place where people come to share their experiences, thoughts, and research. Please help us continue to grow by buying a copy of The World's Most Haunted Places, Communicating With the Dead, The Encyclopedia of Haunted Places, The Nightmare Encyclopedia, Our Haunted Lives, Ghosts of War, The Ghost Files, Weird Massachusetts, Who's Haunting the White House?, The Mysteries of the Bermuda Triangle, Picture Yourself Legend Tripping, Chasing Spirits, 2014 Haunted New England wall calendar. Every little bit helps run our servers and helps the site get bigger and better! Please also click on our banner ads and support our advertisers -- when you do business with someone who advertises with Ghostvillage.com, let them know you saw their ad with us and thank them for the support.

Please email us anytime at info@ghostvillage.com. Your comments, questions, and feedback are always welcomed.


---
All material is © 2014 Ghostvillage.com
REMOVAL INSTRUCTIONS: To be removed from the mailing list, please go to www.ghostvillage.com/subscribe.shtml or click on the link below.