GHOSTVILLAGE.COM NEWSLETTER #144 - February 18, 2014

Buy Books by Jeff Belanger | Jeff Belanger's Official Web site | Visit UFOvillage.com | Like us on Facebook | Paranormal for Kids | Meet the Staff | Advertise with Ghostvillage.com

30,758 Subscribers to this newsletter!

Be sure to forward this on to your friends who are interested in the supernatural!

Jeff Belanger's new DVD series explores the ghosts, monsters, and mysteries of New England! http://ournewenglandlegends.com/
---
You are receiving this email because you or a friend signed you up at http://www.ghostvillage.com. If you would like to be removed from this mailing list, please see the instructions at the bottom.
View this newsletter online at: http://www.ghostvillage.com/newsletters/Feb18_14.htm
---
Dear Ghostvillagers,


If you've ever seen me speak at a conference, lecture, or school, you know my passion is discussing the odd and unusual in front of people. When I'm speaking on a stage, I feel a connection to everyone there. That energy is incredible. And by watching the facial expressions and body language of my audience, I can learn what topics make them lean forward with interest, and which stories make them start checking their phones for Facebook updates. That connection from one person to a group, or even from an individual to another, is a tangible energy that can be felt by everyone involved.

On January 28th I had the honor of heading to New York City to give my first TEDx talk. My topic was: "History is a Ghost Story - The Haunted White House." I was the first paranormal investigator who has been asked to give one of these talks. I prepped for weeks to make my 10 minutes count. My talk is now available online for free here: https://www.youtube.com/watch?v=RQrxNE7D5I4. Please watch it and share. I feel the message is important.

You may have noticed that Ghostvillage.com hasn't had many updates lately. I want you to know why: We've been rebuilding this baby from the ground up. Back in 1999 when Ghostvillage.com launched, the site was just six Web pages. Updating six Web pages doesn't take much time. But over the years we added thousands more. Each page is a unique HTML file. While that worked great years ago, today it's too big for its own good. So I've been working with a programmer to move all of that content into a database. From there, we can do anything with it. You can search for exactly what you're looking for and create your own unique Ghostvillage experience.

The new Ghostvillage.com will officially launch next month with the next newsletter. I'm thrilled for you to see what we have planned. And once on the new platform, we will welcome new contributors, content, and discussion like never before.

This month, I thought we could explore the concept of Electromagnetic Fields (EMF) a bit more. EMF is a buzzword on any paranormal TV show. Many investigators use EMF meters in their investigations, but why? The theory is that ghosts are either comprised of electromagnetic energy or the intelligence behind them manipulates EMF in some way, but again I ask: Why do we think that is so? I'm not saying it's necessarily wrong, I'm just saying we should understand the logic behind the theory and not just repeat it because we saw it on television.

The original ghost hunter Harry Price was exploring electromagnetic energy as it relates to ghosts as far back as the 1920s. He went down that road because psychic mediums before him believed that this newly-harnessed power called "electricity" could explain psychic phenomena. Maybe it can. What do you think? Discuss it in this month's message board of the month: http://www.ghostvillage.com/ghostcommunity/index.php?showforum=27

I have some big events coming up soon. First, I'm proud to announce that I'm coming to Paracon Australia May 10-11! If you're one of our many Aussie Ghostvillagers, please come investigate Maitland Gaol with us. And this April 12, we're holding a Legend Trips event at the historic and haunted Mark Twain House in Hartford, Connecticut!

Enjoy the rest of the newsletter below.

Supernaturally yours,

Jeff Belanger
Mayor of Ghostvillage.com
Twitter: @THEJeffBelanger
Facebook: Jeff Belanger
YouTube: www.youtube.com/legendtripping





The Spirits of the Mark Twain House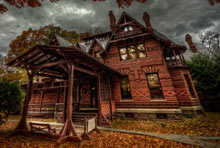 "Then away out in the woods I heard that kind of a sound that a ghost makes when it wants to tell about something that's on its mind and can't make itself understood, and so can't rest easy in its grave, and has to go about that way every night grieving." –Mark Twain

Huckleberry Finn knew about ghosts, and his creator, American literary treasure, Samuel Clemens, better known by his pen name Mark Twain, loved to tell a good ghost story.

The most prominent ghostly figure in the home today is that of a young woman in a long white dress who has been seen gliding along the hallways, stairways, and hovering in Susy's former bedroom. We can only speculate that this is the spirit of Mark Twain's daughter returning to the place she was happiest. In addition, several guests, staff, and investigators believe that George Griffin, the family's butler, still makes his appointed rounds in the house. Several employees of the museum acknowledge that there's a spirit to the building, and they often feel like they're not alone inside.

You've seen this place on Ghost Hunters -- now investigate for yourself! Legend Trips is the first group to be allowed inside to hold an event like this. Don't miss it!

Click here for more information: http://www.legendtrips.com/Mark_Twain_House2014.shtml





Jeff Belanger's Upcoming Events

This is the place to find out where author and Ghostvillage.com founder Jeff Belanger will be speaking on the subject of the paranormal. If you're interested in booking Jeff for a conference or other event, please visit: http://www.jeffbelanger.com/lectures.php for more information.

Events Scheduled:

Dead of Winter at Lizzie Borden's - Fall River, Massachusetts - February 22, 2014
The Spirits of the Mark Twain House - Hartford, Connecticut - April 12, 2014
Paracon Australia - Maitland Gaol, New South Wales, Australia - May 10-11, 2014
A Weird Massachusetts Evening with Jeff Belanger - Norton Public Library - Norton, Massachusetts - August 12, 2014 6:30PM
Fantomfest - Austin, Texas - September 27-28, 2014
Shooting Star Casino - Mahnomen, Minnesota - October 10-11, 2014 - INFO COMING SOON!
A Supernatural Evening with Jeff Belanger - Hudson Public Library - Hudson, Massachusetts - October 15, 2014 6:30PM



How to win: Entries will be accepted up until 5:00 PM (eastern time) tomorrow (February 19, 2014). At 5:00 PM, we will draw a winner at random from the correct entries that have been received. You no longer have to be the first, but you only have until 5:00 PM to get your answer in. If you click on this link: http://www.ghostvillage.com/index.shtml#winner, you see today's date, and "We have a winner!" that means the contest has ended. Sorry, please try again next month. To submit your entry, simply reply to this email with the correct answer.

Congratulations to Ernest Dunkel, Jr. of Oil City, Pennsylvania, who was last month's winner!

On to this month's question: This question can be answered by reading a page on Ghostvillage.com. Remember, reply by 5:00 PM tomorrow to be eligible to win.

Who illustrated the 1814 sketch of the torched White House in Jeff Belanger's TEDx talk?

At 5:00 PM tomorrow, we will announce the winner on our home page. Good luck! (Only Ghostvillagers who have not won a prize from us in the last year are eligible.)



This month's prize: We're giving away autographed copies of Jeff Belanger's 2 new DVDs: New England Legends and a Ghostvillage.com window sticker!


Didn't win? Want to buy a copy? Click on the graphic.



Our "Features" section is a place for editorials, research articles, open letters to our readers, and other content of interest to Ghostvillagers. If you have a topic on your mind, agree or disagree with something you read recently, we want to hear from you! For guidelines, click here.

New features added since our last newsletter:

History is a Ghost Story - The Haunted White House with Jeff Belanger February 16, 2014 [VIDEO]
Ghostlore of Kentucky with Keven McQueen February 4, 2014 [VIDEO]





Ghostvillage.com Advertising Opportunities

Each month Ghostvillage.com reaches tens of thousands of people interested in the paranormal. We offer the most effective and best-valued advertising and sponsorship packages of any paranormal media outlet. Please visit: http://www.ghostvillage.com/advertising.htm for details.

If you're ready to put Ghostvillage.com to work for your company or organization, send us an email to get started.




Ghostvillage.com Quick Stats:

326,261 Posts in the Town Square Message Boards
30,286 Members in the Town Square
1,140 "Personal Encounters" published on Ghostvillage.com
30,758 Subscribers to this newsletter


Ghostvillage.com is the Web's largest supernatural community, the central place where people come to share their experiences, thoughts, and research. Please help us continue to grow by buying a copy of The World's Most Haunted Places, Communicating With the Dead, The Encyclopedia of Haunted Places, The Nightmare Encyclopedia, Our Haunted Lives, Ghosts of War, The Ghost Files, Weird Massachusetts, Who's Haunting the White House?, The Mysteries of the Bermuda Triangle, Picture Yourself Legend Tripping, Chasing Spirits, 2014 Haunted New England wall calendar. Every little bit helps run our servers and helps the site get bigger and better! Please also click on our banner ads and support our advertisers -- when you do business with someone who advertises with Ghostvillage.com, let them know you saw their ad with us and thank them for the support.

Please email us anytime at info@ghostvillage.com. Your comments, questions, and feedback are always welcomed.


---
All material is © 2014 Ghostvillage.com
REMOVAL INSTRUCTIONS: To be removed from the mailing list, please go to www.ghostvillage.com/subscribe.shtml or click on the link below.