GHOSTVILLAGE.COM NEWSLETTER #153 - December 16, 2014

Buy Books by Jeff Belanger | Jeff Belanger's Official Web site | Visit UFOvillage.com | Like us on Facebook | Paranormal for Kids | Meet the Staff | Advertise with Ghostvillage.com

30,123 Subscribers to this newsletter!

Be sure to forward this on to your friends who are interested in the supernatural!

Celebrate Ouija's 125th anniversary in the city where it was born: Baltimore! April 23-25, 2015 http://www.tbhs.org/events/ouijacon-2015/
---
You are receiving this email because you or a friend signed you up at http://www.ghostvillage.com. If you would like to be removed from this mailing list, please see the instructions at the bottom.
View this newsletter online at: http://www.ghostvillage.com/newsletters/Dec16_14.htm
---
Dear Ghostvillagers,


I hope you're enjoying the holiday season and the waning days of 2014. Though Halloween will forever be my favorite holiday, I've come to adore Christmas even more than I used to (which was quite a bit already), because my busy season slows down, my work load lessens for a few weeks, and I can enjoy the magic of this holiday. I can also help make some extra magic for my seven-year-old daughter, Sophie.

With the extra time this month, I've been exploring some of the legends and monsters of the holiday season. If you follow me on Facebook, or if you've been checking Ghostvillage.com, you can read more about Krampus, the Belsnickel, and others (you can even listen to the holiday song I wrote called "My Christmas Tree is Haunted"). I love these legends! For me, they make the holiday season even better because some of them offer a dark undercurrent to all of the shininess of the season. This isn't a bad thing, because you can't expect good things to come your way without acknowledging that there's a consequence for behaving badly. Worried about getting coal in your stocking on Christmas? With Krampus and the Belsnickel, that's the least of your worries.

So a funny thing happened. My daughter has been snooping around my office lately and looking at the pictures of these Yuletide creatures. She asked, so I told her the story… annnnd then she starts telling kids at school. Annnnd then kids start telling their parents… you can probably figure out the rest. I imagine this is going to be a pattern repeated throughout her school years. Sorry, Sophie, Daddy has a really weird job.

Though my job is weird, I love it dearly. And sometimes I encounter a story that's so good that it won't let me go. That happened to me this past month.

Back in 2007, I made a trek up October Mountain in the Berkshires of Western Massachusetts. I had heard there was an abandoned cemetery up there haunted by the ghost of a little girl. That's all I knew. Not much to go on.

We hiked all over that mountain one early December day, but weren't able to find the cemetery ruins. Considering the mountain is 16,500 acres of state forest, I shouldn't be surprised. The odds weren't with us.

I didn't mind so much. It was still a great story. And we did find some old cellar holes and other evidence of the former logging community that once called that mountaintop home. It was clear people once lived there – they left a mark.

Fast forward to 2013. I returned to October Mountain because we were filming a story on the monsters, ghosts, and even UFO sightings of the mountain for my New England Legends series on PBS. This time I connected with Joe Durwin. Joe knew the location of the cemetery and was able to guide us there. When I walked through the two dozen or so broken headstones, I found one that belonged to Anna Pease – aged 10 years and 9 months – she died January 22, 1829. I was so touched to be able to give this girl a name again. A ghost story led me to this mountain, and through this ghost story I was able to remind a lot of people that our ancestors had names. Anna Pease was remembered.

This was the most moving paranormal story I had ever covered. I felt like I could bring some closure to the story...

...But Anna's story didn't end in the Fall of 2013... she still had another surprise for me.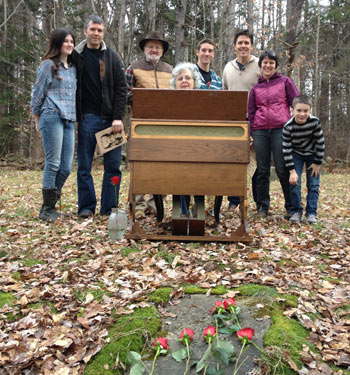 This past October, PBS reran the "Spooky Berkshires" episode of New England Legends. A few days later, my co-producer Tony Dunne received a call at the station. The man on the other end of the line was Nelson Pease from Palmer, Massachusetts. Mr. Pease had seen the show and realized that Anna Pease was a distant relative of his. He asked Tony for directions on how to get to the cemetery so he and his family could pay their respects during Thanksgiving week.

When Tony and I discussed the phone call, we knew we had to grab our cameras and take these folks to the cemetery ourselves (besides, telling someone, "When you see the lake, take the left, when you see the big tree, take another left, then hike the trail by the old stone wall on the right…" wouldn't really get them there).

So two days before Thanksgiving, we brought Nelson, his wife, his son, his daughter-in-law, and three grandchildren up to October Mountain. They each carried a red rose to lay on Anna's grave, plus they brought in an old-fashioned portable pump organ so they could sing the 1856 Stephen Foster song "Gentle Annie" in the cemetery.

Exploring ghostly legends all over the world has led me to creepy places. Scary old prisons, asylums, battlefields, and yes, even cemeteries. I've had the hair on the back of my neck stand up, and I've been downright nervous in some places. But I can tell you on that Tuesday morning on October Mountain, with the Pease family singing to their almost-forgotten ancestor, I felt nothing but joy on that otherwise lonely mountaintop.

You can watch this reunion segment here: http://ghostvillage.com/return-to-october-mountain/.

Years ago, a ghost story of a little girl led me up a huge mountain in search of a lost grave. In 2013, I was able to put a name to that story. Through telling that story on television, we were able to reunite a family.

These stories, these connections, matter. Anna Pease matters – even 185 years after her death, she is able to remind us all that family, love, and joy can still be found even in the darkest and loneliest of places.

Have a wonderful holiday season and new year! From my family to yours, I'm wishing you many bright blessings for 2015!

Enjoy the rest of the newsletter below!

Supernaturally yours,

Jeff Belanger
Mayor of Ghostvillage.com
Twitter: @THEJeffBelanger
Facebook: Jeff Belanger
YouTube: www.youtube.com/legendtripping





Jeff Belanger's Upcoming Events

This is the place to find out where author and Ghostvillage.com founder Jeff Belanger will be speaking on the subject of the paranormal. If you're interested in booking Jeff for a conference or other event, please visit: http://www.jeffbelanger.com/lectures.php for more information.

Events Scheduled:

A Weird Massachusetts Evening with Jeff Belanger at Holliston Public Library - Holliston, Massachusetts - January 29, 2015 7:00PM
A Supernatural Evening with Jeff Belanger at Conant Public Library - Sterling, Massachusetts - February 19, 2015 6:00PM
Dead of Winter at Lizzie Borden's - Fall River, Massachusetts - February 28, 2015
A Weird Massachusetts Evening with Jeff Belanger at Richards Memorial Library - Paxton, Massachusetts - March 5, 2015 7:00PM
An Evening of Ghost Stories and Haunted Places at Cary Memorial Library - Lexington, Massachusetts - March 18, 2015 7:00PM
A Supernatural Evening with Jeff Belanger at Uxbridge Free Library - Uxbridge, Massachusetts - March 23, 2015 6:30PM
Salem Con 2015 - Salem, Massachusetts - April 10-11, 2015
OuijaCon 2015 - Baltimore, Maryland - April 23-25, 2015
Dark Journeys: Exploring Urban Legends with Jeff Belanger at the Whitman Public Library - Whitman, Massachusetts - June 15, 2015 6:30PM
A Supernatural Evening with Jeff Belanger - Gilford Public Library - Gilford, New Hampshire - July 9, 2014 6:30PM
Strange Escapes: The Haunted Mount Washington Resort - Bretton Woods, New Hampshire - August 28-29, 2015
Paranormal Disney World Trip - Orlando, Florida - September 11-13, 2015
A Supernatural Evening with Jeff Belanger - Bellingham Public Library - Bellingham, Massachusetts - October 7, 2015 7:00PM
A Supernatural Evening with Jeff Belanger - Lawrence Library - Pepperell, Massachusetts - October 22, 2015 7:00PM
A Supernatural Evening with Jeff Belanger - Kimball Library - Atkinson, New Hampshire - October 27, 2015 6:30PM



Congratulations to Holly Jones of Columbus, Indiana, who was last month's winner!

How to win: Entries will be accepted up until 5:00 PM (eastern time) tomorrow (December 17, 2014). At 5:00 PM, we will draw a winner at random from the correct entries that have been received. You only have until 5:00 PM to get your answer in. The winner will be announced in next month's newsletter. To submit your entry, simply reply to this email with the correct answer.

This question can be answered by reading a page on Ghostvillage.com. Remember, reply by 5:00 PM tomorrow to be eligible to win.

In the Return to October Mountain segment, what's the name of the store Jeff enters to meet Nelson?

Only Ghostvillagers who have not won a prize from us in the last year are eligible. Good luck!



This month's prize: We're giving away autographed copies of Jeff Belanger's 3 DVDs: New England Legends and a Ghostvillage.com window sticker!


Didn't win? Want to buy a copy? Click on the graphic.





Ghostvillage.com Advertising Opportunities

Each month Ghostvillage.com reaches tens of thousands of people interested in the paranormal. We offer the most effective and best-valued advertising and sponsorship packages of any paranormal media outlet. Please visit: http://www.ghostvillage.com/advertising.htm for details.

If you're ready to put Ghostvillage.com to work for your company or organization, send us an email to get started.




New Articles Since Last Month


Features: Return to October Mountain

Features: My Christmas Tree is Haunted

Features: Beware Der Belsnickel!

Features: Happy Krampusnacht!





Ghostvillage.com Quick Stats:

328,237 Posts in the Town Square Message Boards
30,511 Members in the Town Square
1,163 "Personal Encounters" published on Ghostvillage.com
30,123 Subscribers to this newsletter


Ghostvillage.com is the Web's largest supernatural community, the central place where people come to share their experiences, thoughts, and research. Please help us continue to grow by buying a copy of The World's Most Haunted Places, Communicating With the Dead, The Encyclopedia of Haunted Places, The Nightmare Encyclopedia, Our Haunted Lives, Ghosts of War, The Ghost Files, Weird Massachusetts, Who's Haunting the White House?, The Mysteries of the Bermuda Triangle, Picture Yourself Legend Tripping, Chasing Spirits. Every little bit helps run our servers and helps the site get bigger and better! Please also click on our banner ads and support our advertisers -- when you do business with someone who advertises with Ghostvillage.com, let them know you saw their ad with us and thank them for the support.

Please email us anytime at info@ghostvillage.com. Your comments, questions, and feedback are always welcomed.


---
All material is © 2014 Ghostvillage.com
REMOVAL INSTRUCTIONS: To be removed from the mailing list, please go to www.ghostvillage.com/subscribe.shtml or click on the link below.